FULLER BROWS IN JUST OVER 2 HOURS.
Let Maris, makeup artist and 3D Brow Certified Microblading Technician design and create the perfect custom brow enhancement for you.
No two faces are alike and your brows should be shaped just for you. No cookie-cutter brows here!
Book the brow enhancement that is right for YOU.
Microblading and micro shading are procedures categorized under permanent makeup, but unlike traditional cosmetic tattooing, they are less invasive and are considered semi-permanent.
Microblading is done by using a handheld tool with ultra fine needles that resemble a blade. Each 'hair stroke' is gently etched into the skin, giving an incredibly natural and realistic look. Microblading is excellent for those wanting to enhance their brows or need help creating the perfect brow shape.
Microshading is done by using a handheld tool with fine needles grouped together. This tool creates a soft, powdered effect that resembles eyebrow powder and employs a stippling method, which creates repetitive dots of pigment. Combined with microblading, this procedure can dramatically correct and fully reconstruct eyebrows and is excellent for those who want full dramatic brow, or those who have little to no eyebrows.
Gallery of work
PRICING
Payment plans available! Please see info below pricing.
Adds color and density to natural brows with microblading. Ideal for those who have who have sparse brows or would like to change the shape of their brows, but want to retain a natural look.
Perfection session ($150) will be booked 6-8 week after initial session for finished results.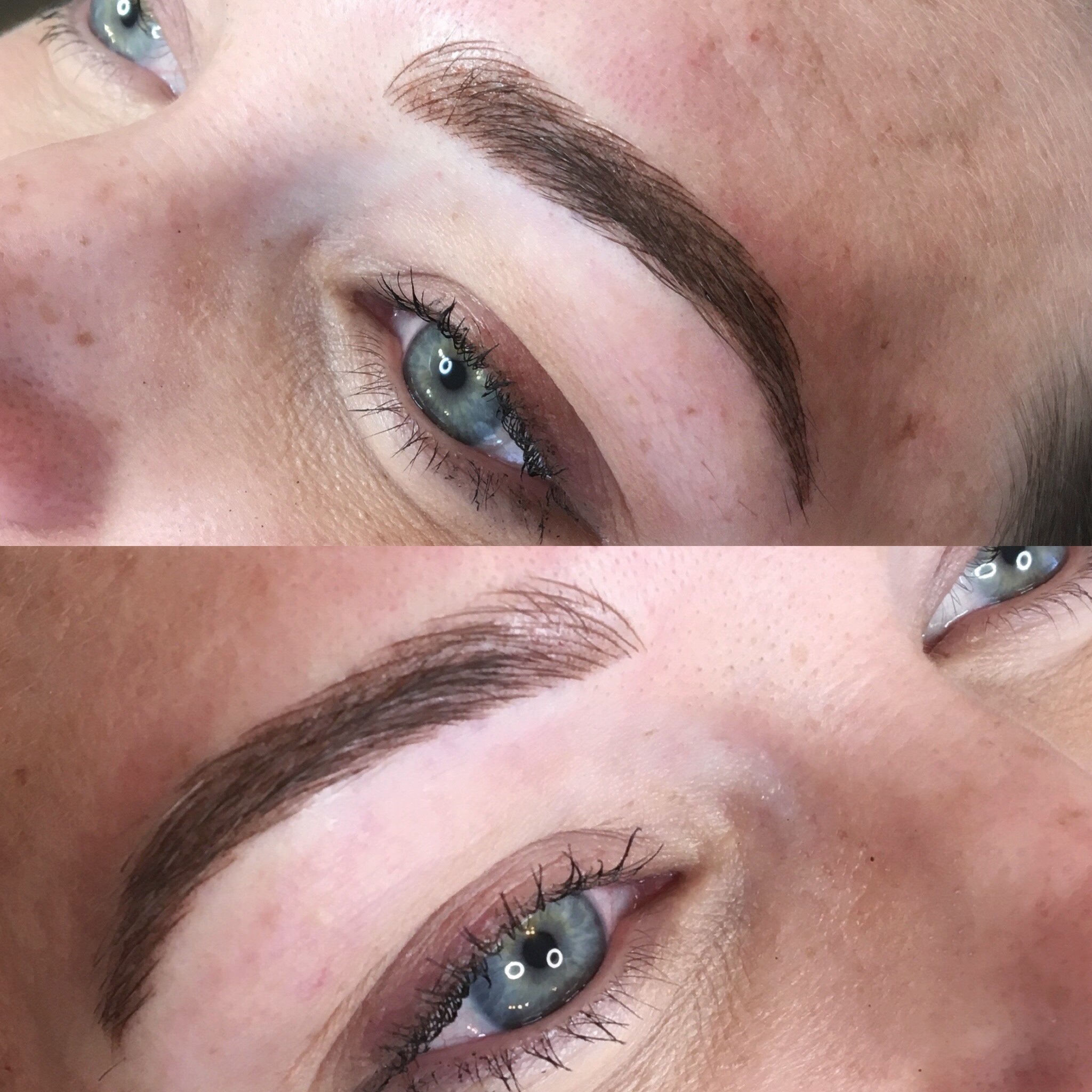 This session adds shape, color and density to brows with microblading and microshading. Ideal for those with already full brows, who want to achieve a dramatic look, or those who have little to no brow hair.
Perfection session ($150) will be booked 6-8 week after initial session for finished results.
Microblading Corrections - $575 and up
Correction for perviously microbladed or tattooed brows. Consultation is required prior to booking!
Perfection SessioN - $150
Highly recommended after initial session for finished results. This service must be preformed at least 4 weeks after, but within 3 months from the initial session date.
COLOR BOOST - $150
For clients who feel they need more color or perfecting of hairstrokes. This service must be preformed 3 months after, but within 6 months from the initial session date.
Yearly COLOR BOOST - $325
Yearly touch-up to ensure an ongoing perfected brow. This service must be preformed 6 months after, but within 18 months from the initial session date.
Ready to BOOK AN APPOINTMENT?
LEARN MORE...
HOW LONG DOES IT TAKE?
The initial sessions take about 2.5 to 3 hours depending on the type of appointment. During this session, I will shape and style your brows and make any changes needed. We then follow with pigment color selection. Once you are satisfied with the choices, we will apply numbing cream and begin the procedure.
The second perfecting session takes place 6-8 weeks after the initial session. This session will take approximately 1.5 hours to complete.
IS IT PAINFUL?
The pain level for the procedure is considered mild to none! Two types of topical anesthetics are used to make sure you comfortable during the procedure, however pain tolerance varies from client to client.
HOW LONG DOES IT TAKE TO HEAL?
It takes approximately 14 days for the brows to heal, and about 1 month for the color to fully set in. No down time is required after the procedure!
HOW LONG WILL IT LAST?
Microblading is considered semi-permanent because the pigments are designed to fade over time. Factors such as skin type, lifestyle, age, metabolism, medications, and pigment color affect the longevity of your brows. The sun will also affect the rate at which these pigments are broken down. A touch-up anywhere between 6 months to 2 years depending on your skin and lifestyle will be required to keep your brows looking fresh!
IS THE PERFECTION SESSION NECESSARY?
Yes, absolutely! A touch up session after 6-8 weeks is necessary to achieve a fully perfected microbladed brows. Certain strokes may not pick up during first session and will need to be refilled. Pigment color may also need to be adjusted, brow thickness and more strokes can be added as well. Individuals with oily skin often require a deeper shade during the touch up session as the oils tend to lighten the pigment. Your perfection session will allow me to refine your brows to ensure it looks perfect and retains the color for the whole year!
DO I NEED A CONSULTATION?
It's not required, as I book enough time to discuss your needs and wants at the initial appointment, but I do offer consult appointments. If you have a specific question or concern you are welcome to text/call or email as well.
I HAVE HAD MY BROWS TATTOOED/MICROBLADED BEFORE, CAN YOU FIX THEM/TOUCH THEM UP?
I require that anyone who has had their brows tattooed previously by another artist text me a picture before booking an appointment. This way we can discuss price, your options and schedule sufficient time.
WHAT KIND OF PIGMENT IS USED?
Unlike body tattoos, which are made using carbon based ink, cosmetic tattoos are made using iron-oxide based pigments. These pigments are safe to use and are created to slowly fade over time. Pigments used are chosen to match the natural or desired brow color.
WHAT FACTORS WILL AFFECT MY BROWS?
Oily Skin: Increased oil production can cause hairstrokes to blur and heal lighter and powdery.

Smoking: Smokers may notice that their Semi-Permanent Cosmetics will fade faster

Anemia and iron deficiency: Your body will absorb these iron based pigments more quickly.

Sun exposure: Increased exposure to the sun will cause premature fading.

Age and metabolism. The Faster your metabolism the faster the pigment will fade.

Bleeding during the procedure: Excessive bleeding during your procedure will greatly affect how your body retains pigment. While this is not entirely in our control, it is important that you follow before care instructions to help minimize bleeding. This includes avoiding blood thinning medications, alcohol, and caffeine before your procedure.
WHO IS NOT SUITABLE FOR THE PROCEDURE?
Microblading is not suitable if you have/are:
Using Accutane or have used Accutane within the past year

Freshly tanned/sunburned face

On blood thinning medications or antibiotics

Diabetic (doctor's note required)

Chemotherapy (doctor's note required)

Viral infection or disease (cold, flu, etc.)

History of Keloids or Hypertrophic scarring

Epilepsy

Skin irritation or Psoriasis near treated area

Rosacea

Boxox in the past 3 weeks

MRI (within 2 weeks)

Pregnant

Nursing clients can be done at your own discretion. I advise discussing with your doctor first. Microblading is still considered a tattoo, and just like with wine or sushi consumption, it is a personal choice to do so during this period.
HOW SHOULD I PREPARE FOR MY APPOINTMENT?
If you have reference pictures, please feel free to bring these to your appointment along with nay brow product you are currently using.

If you tint your brows you will want to do so 72 hours before your appointment.

If you prefer to have your eyebrows waxed/threaded please do so at least 3 days before your appointment, otherwise I can remove stray hairs when I design your brows.

Shower and wash your face the day of your appointment.

You must not use Retin-A near the brow area 2 weeks before or after the procedure.

You will need to avoid water/salt water and extreme sun exposure for at least two weeks following your appointment.

No Botox, fillers, Microdermabrasion, chemical peels or anything of the like for at least 2 weeks prior to your procedure.
Doing any of the following will cause excessive bleeding during your procedure and will hinder your final result:
Do not work out the day of your appointment.

You should not take (unless prescribed by a Doctor) any medications that may thin your blood (i.e. Aspirin, Ibproferen, fish oil, Vitamin E) 72 hours before or immediately after your procedure.

Do not drink alcohol within 24 hours of your procedure.

Avoid caffeine for 12 hours before your procedure.

WHAT CAN I EXPECT IMMEDIATELY AFTER MY APPOINTMENT?
In the hours following your procedure your Semi-Permanent Cosmetics will appear much darker and bolder than it will heal due to oxidation in the surface layer of your skin. Your Semi-Permanent Cosmetics will also appear warmer in color. You may experience some redness or swelling around the treated area, this typically disappears within 48 hours.
Around day 3 you may notice some flaking or light scabbing on the treated area, do not pick at it, doing so can result in loss of pigment in those areas. Brows may appear spotty or patchy until the entire brow has finished healing. You may notice that some areas may appear very light or even to have lost pigment entirely after they have peeled, the epidermis will be thicker causing muting, hiding or diffusing of pigment underneath. The epidermis will normalize over the next 4 weeks and softened pigment should appear more clearly on surface of the skin.
At 4 weeks your brows will be fully healed. Whatever pigment that does not return will be addressed at your touch up appointment or if you'd prefer darker, bolder brows we can always add more color or dimension during that appointment!
WHAT IF I DON'T LIKE IT?
As with all cosmetic procedures, I always recommend that clients do their research and understand the procedure and compare different artists' work and portfolio when making their decisions. I will do my utmost to shape and style your eyebrows to your satisfaction prior to the procedure and every effort will be made to achieve an even appearance. If you ultimately decide microblading is not for you, your brows will eventually fade away if no additional touch ups are done.
BOOKING POLICIES
DEPOSIT AND PAYMENT
Deposits are required at the time of booking in order to secure any appointment and are non-refundable.

Deposits can be transferred to a rescheduled appointment if done within 72 hours of the original appointment.
ARRIVE ON TIME
Please arrive on time for your appointment. Being late for your appointment sets the following client's appointment back. We respect our client's time and expect the same courtesy. If you arrive more than 15 minutes late for your appointment, we reserve the right to cancel your appointment and your deposit will be forfeited.
CANCELLATION POLICY:
72 hours notice is required to make any changes to your appointment.

Less than 72 hours notice for a cancellation or change will result in the forfeit of your deposit.

If you cancel within 24 hours of your appointment you will be charged 50% of the session price.

More than 15 min late, or no shows will result in a change of the full service price